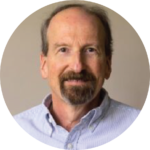 Ted Kahn has more than 20 years of experience in agricultural biotechnology. He has applied his
background in protein biochemistry to the challenge of controlling agricultural pests. Ted has worked at
small, medium-sized, and large agricultural companies, and has contributed scientifically to many steps
in the development of products, from earliest discovery to advanced stages in the development
pipeline. He discovered and helped develop a nematode-control trait that is now in a late stage of
product development, and has led teams focused on discovering new pest control proteins. Ted has
established and managed collaborations with many academic labs to discover and characterize new pest
control proteins, to develop improved computational methods for predicting novel pest control
proteins, and to develop improved laboratory methods to screen proteins for desired activities.

Ted received his bachelor's degree in chemistry and biochemistry from Cornell University, and his Ph.D.
in molecular biophysics and biochemistry from Yale University. He was a postdoctoral fellow with Roger
Beachy at The Scripps Research Institute, studying the structure and function of a plant virus protein.
Currently Ted is leading research at Innatrix to discover new methods of controlling plant diseases and
nematodes.
Get in touch: ted.kahn@innatrix.com