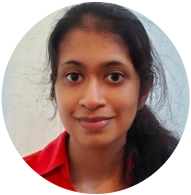 Ramya Vijapurapu, B.S.
Marketing Manager
Master of Microbial Biotechnology Candidate at North Carolina State University
In May 2020, Ramya graduated with a Bachelor of Science degree in Biotechnology (Microbial Biotechnology option) from Rutgers University in New Brunswick, New Jersey. She is currently enrolled in the Master of Microbial Biotechnology (MMB) program at North Carolina State University. This Professional Science Master's program is a unique graduate program that combines PhD-level science coursework with business courses. Ramya has been a student in this program since August 2020, and has gained valuable industry experience through MMB project work. She hopes to earn her Master of Business Administration degree upon graduating from the MMB program.

Since February 2021, Ramya has been generating various digital marketing approaches and strategies for Innatrix. She aspires to gain more experience in life science marketing, as she would like to pursue a marketing career in the future.

Get in touch: rtvijapu@ncsu.edu